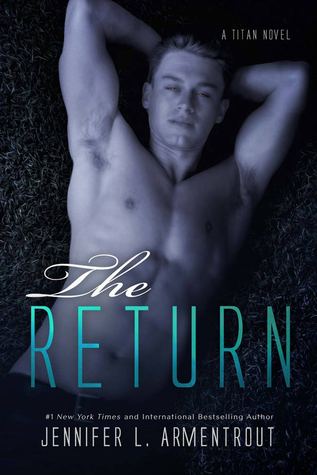 The Return (Titan #1) by Jennifer L. Armentrout
Steph's Rating: 4.5 Stars
Overall Rating: 4.5 Stars
Format: Paperback
Publisher: Spencer Hill Press
Publication Date: February 16th, 2015
Pages: 335
Goodreads Synopsis:
The Fates are cackling their bony asses off…

It's been a year since Seth made the deal with the gods that pledged his life to them. And so far, the jobs they've given him have been violent and bloody–which is kind of all right with him. But now Apollo has something else in mind for Seth. He's got to play protector while keeping his hands and fingers off, and for someone who really has a problem with restraint, this new assignment might be the most challenging yet.

Josie has no idea what this crazy hot guy's deal might be, but it's a good bet that his arrival means the new life she started after leaving home is about to be thrown into an Olympian-sized blender turned up to puree. Either Josie is going insane or a nightmare straight out of ancient myth is gunning for her.

But it might be the unlikely attraction simmering between her and the golden-eyed, secret-keeping Seth that may prove to be the most dangerous thing of all.

Because history has once again been flipped to repeat.
Steph's Review:
Back in the days of the Covenant Series, I had a serious love-hate relationship with Seth. Or rather, I was pretty much his fan-club president in Pure and then the anti-Seth club president in all the books after. Our complicated pretty boy has once again made me swing to the other side of extremes and I have now renewed my membership for the Seth (albeit transformed and changed Seth) fan-club.
More than anything, Seth detests being a lackey to the gods: a servant at their beck and call. The only thing that keeps him in line is memories of the reason why he made this pact in the first place--that this is all penitence for his previously misguided actions that led to a downward spiral of events. This, however, becomes the least of his problems when the Titans released in the fight against Ares forgo the promises they made before the war and threaten to raze the Earth with their deadly powers. After gaining knowledge of the brewing battle, Apollo mysteriously orders Seth to make contact with Josie Bethel, a seemingly mediocre, mortal college student. Little does Seth know, his biggest problem might not be the gods nor the Titans even, but instead the human he has been ordered to protect.
Overall, I think The Return is a basic plot skeleton of a book, with a huge focus on character development to prep them for whatever Jen has in store for the rest of the series. Obviously, the character who undergoes the biggest alteration is Seth, and the reason for his change is none other than Josie herself. Up until this moment, we've only gotten a glimpse at the exterior layers of Seth's character (and he is so complicated that his layers are probably infinite anyways). He starts off broody and sardonic about his situation as we would expect him to be, but Josie helps him uncover and come to terms with the true heart of the problem that nags at him so much. She is his salvation, his reason for catharsis, and his only one true empathizer as an outsider with fresh eyes into his world. Despite the sudden shift in Josie's world from predictable everyday college life into one in which her head is targeted from every direction, she manages to keep a level head in both her own situation and still be able uncover a personality in Seth that I didn't ever think he'd be fully capable of. This is the kind of Seth I can get on board with. In fact, if it keeps going this way...I might just like him more than Aiden (please don't kill me).
Jen has definitely added twists into this book that complexes the Covenant world once again, and not in a bad way. It's a new story completely and reading the parent Covenant Series isn't necessary to understand this one, since Jen does give a great background on what you need to know. For those who have read Alex's story, these are all wonderful refreshers of part one told in a different, interesting perspective. At the same time, The Return makes me feel like Covenant never even ended and we were never separated. Old and recognizable faces make significant appearances in the story, and I loved seeing them so much, especially Deacon and Luke. I am wondering though, if Aiden and Alex will ever have cameo's in the series. Jen did say they were strictly not in The Return, but I have no idea if that applies to the rest of the series as well. The Return is a fantastic start to the Titan series (with no evil cliffy at that) and I can't wait to read installment two!