Yes, Happy Release Day! The Return quite literally marks the revamp of the Covenant Series, except this time our shining star of the show is none other than our Apollyon Seth (still a mysterious no last name... :)) I have a love-hate relationship with this boy thanks to all the antics he went through in the previous five books that put my emotions on a rollercoaster, but I will take what I can get if it means being able to say hello to the new and old of the Covenant World. And I mean, The Return is New Adult. New Adult and Seth. New Adult plus Seth equates to...*giggles*
Goodreads Synopsis: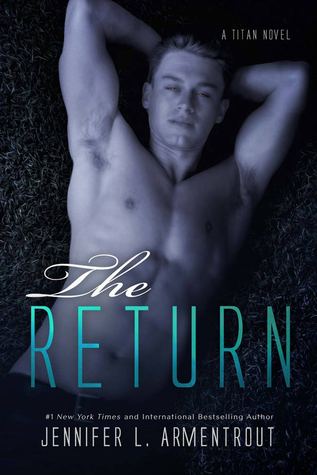 The Fates are cackling their bony asses off…

It's been a year since Seth made the deal with the gods that pledged his life to them. And so far, the jobs they've given him have been violent and bloody–which is kind of all right with him. But now Apollo has something else in mind for Seth. He's got to play protector while keeping his hands and fingers off, and for someone who really has a problem with restraint, this new assignment might be the most challenging yet.

Josie has no idea what this crazy hot guy's deal might be, but it's a good bet that his arrival means the new life she started after leaving home is about to be thrown into an Olympian-sized blender turned up to puree. Either Josie is going insane or a nightmare straight out of ancient myth is gunning for her.

But it might be the unlikely attraction simmering between her and the golden-eyed, secret-keeping Seth that may prove to be the most dangerous thing of all.

Because history has once again been flipped to repeat.

Book 1 in the new adult paranormal TITAN series, spin-off to the best selling COVENANT series.
Goodreads Link
:
https://www.goodreads.com/book/show/18809475-the-return
Amazon:
http://www.amazon.com/The-Return-A-Titan-Novel/dp/1939392624
Barnes & Noble:
http://www.barnesandnoble.com/w/the-return-jennifer-l-armentrout/1120667823?ean=9781939392626
Books-A-Million:
http://www.booksamillion.com/p/Return/Jennifer-L-Armentrout/9781939392626?id=6241058357508
A pre-order means you get a special Alex and Aiden bonus scene! All you have to do to receive that tidbit is fill out an online form proving your purchase
HERE
. The deadline to do so is February 18th, so if you haven't already jumped on the opportunity you have a few days to do so.
There is also a sampler of the first three chapters of The Return that can be viewed on Wattpad
HERE
.
Happy Reading!