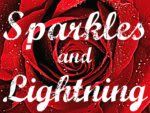 Do you want a free copy of a 2013 book of your choice? Head on over to Sparkles and Lightning, who is hosting a giveaway to give you just that! It is lasting for the rest of the month and ending on February 5th, so you have plenty of time and ways to enter. 13 people will win, so good luck to you all. I am entering it too. The book choices are listed on the page.
This is a great way to start off your 2013! There is more info given on Sparkles and Lightning.
CLICK
HERE
TO GO TO THE PAGE DIRECTLY.