Waiting on Wednesday
is a weekly bookish event hosted by Breaking the Spine.
This is a meme that many book blogs participate in to goggle over highly anticipated upcoming releases and fabulous covers and authors!
Haven't done a
WoW in a while, but I am literally sitting on my fingers just waiting for this book to come out. I haven't been able to immerse myself in any new series simply because I'm dying for The Return (well, this and Burned by Karen Marie Moning) so badly to console my chronic Post-Covenant Stress Disorder.
I was ecstatic to hear that Jen was going to write a spin-off over lovely Seth...but I can't believe we're finally rolling around to its release day!
Goodreads Synopsis: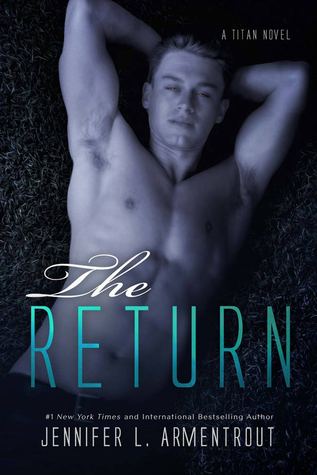 The Fates are cackling their bony asses off…

It's been a year since Seth made the deal with the gods that pledged his life to them. And so far, the jobs they've given him have been violent and bloody–which is kind of all right with him. But now Apollo has something else in mind for Seth. He's got to play protector while keeping his hands and fingers off, and for someone who really has a problem with restraint, this new assignment might be the most challenging yet.

Josie has no idea what this crazy hot guy's deal might be, but it's a good bet that his arrival means the new life she started after leaving home is about to be thrown into an Olympian-sized blender turned up to puree. Either Josie is going insane or a nightmare straight out of ancient myth is gunning for her.

But it might be the unlikely attraction simmering between her and the golden-eyed, secret-keeping Seth that may prove to be the most dangerous thing of all.

Because history has once again been flipped to repeat.
*Sighs*. I don't know how exactly I'm going to carry this book in public with that slightly misleading cover, but I also don't think I have the constitution to wait until the afternoon everyday to crack the cover. In fact, I'll probably be snuggling in a corner with this book every free waking moment I have no matter my location.
The early review's of this have been stellar, and I expect no less than the ingenuity and humor that was part of the Covenant Series. I really didn't like Seth until the end of Sentinel, but I am entirely eager to get any dosage of this spin-off medicine. The new Titan Series is going to be New Adult, perhaps meaning steamy times ahead with Seth?
Jen posted that those who pre-order The Return--which of course I have--will get a special Alex and Aiden Bonus Scene (This is necessary.) after the release of the book. We've got a few more weeks to go, and thus a few more weeks to snag that little incentive chapter before it is too late! The Return is out on February 17th, a fitting few days after Valentine's Day. Can't wait!