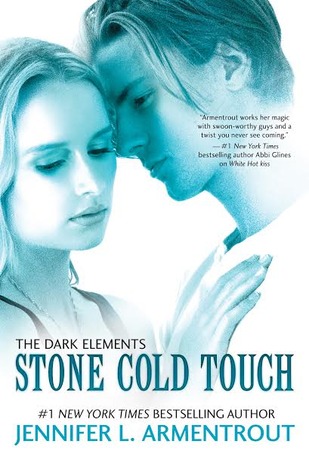 Stone Cold Touch (The Dark Elements #2) by Jennifer L. Armentrout
Steph's Rating: 4 stars
Overall: 4 stars
Format: Paperback
Publisher: Harlequin Teen
Publication Date: October 21st 2014
Pages: 446
Goodreads Synopsis:
Every touch has its price...
Layla Shaw is trying to pick up the pieces of her shattered life—no easy task for a seventeen-year-old who's pretty sure things can't get worse. Her impossibly gorgeous best friend, Zayne, is forever off-limits thanks to the mysterious powers of her soul-stealing kiss. The Warden clan that has always protected her is suddenly keeping dangerous secrets. And she can barely think about Roth, the wickedly hot demon prince who understood her in ways no one else could.

But sometimes rock bottom is only the beginning. Because suddenly Layla's powers begin to evolve, and she's offered a tantalizing taste of what has always been forbidden. Then, when she least expects it, Roth returns, bringing news that could change her world forever. She's finally getting what she always wanted, but with hell literally breaking loose and the body count adding up, the price may be higher than Layla is willing to pay…
Review:
Looking through my blog, you would realize that I am a die-hard fan and addict of Jennifer L. Armentrout. I think I've given pretty much every single book she's written a happy five out of five stars and then go on to make run-on sentences about why you must read her books. I was actually tempted to give this book a 3-3.5 stars, but my more-than-slight bias to JLA might have effected that rating...Okay, so I didn't give her a perfect score this time, but Stone Cold Touch is still undoubtedly an excellent time-passer that might keep you up a little while to finish.
The biggest reason why I felt like this wasn't a round 5 was because this book seemed like an intermission. It's a perfectly lengthy book (longer than book one, I believe), but I felt like there was lots of fluff for the purpose of pure fanservice rather than content that tied to the plot more. I'm not complaining about fanservice necessarily, since it was interesting to read *wink*, but we don't really learn anything more about Lilith, the Lilin, and how Layla's heritage affects her abilities. There were only a small number of major points I think JLA really wanted to hit with this book, and while achieved, overall I thought Stone Cold Touch was stalling for time and trying to draw out the suspense.
Some of said "fluff" is devoted towards gearing up the love triangle subplot between Layla, Zayne, and Roth. I thought it was relatively well written out, but it did feel like a ping-pong match at times between Zayne and Roth since the scenes with Layla just kept on jumping back and forth between the two guys. I've been reading around, and I do see that lots of people have been jumping ship to Team Zayne. For what reason? I myself, do not know. To me, Zayne seemed like an entirely different character from the one we got to know in the first book. Yes, he's known Layla for a lot longer than Roth has, but I don't think that is enough of a reason for him to be her significant other. I saw him mostly as an annoying fly buzzing in a growing relationship between Layla and Roth, and while he was sweet throughout the book, I just don't get as good as a vibe from him. (P.S. Roth is just a darling.)
The big build-up point of this book, of course, was the end. As in the last chapter. Or how about the Very. Last. Page. I actually saw the ending coming a few chapters before, but it's still a killer even when you expect it. The series is only going to be a trilogy, but I think it's safe to say that the end of STC is where the turning point of the story is, and I'm very excited to where Jenn is going to lead this to. Right now though, I see too many unanswered questions and I'm a little worried that the last book is going to end up a bit rushed to fit in all the last minute content. Despite this, I still think this ending is going to be explosive. JLA has once again proven herself to be the queen of throwing wrenches into her stories at the most inopportune times for her readers. The wait for Every Last Breath is going to be excruciatingly difficult, but I cannot wait to see how Layla's story will end!
Steph