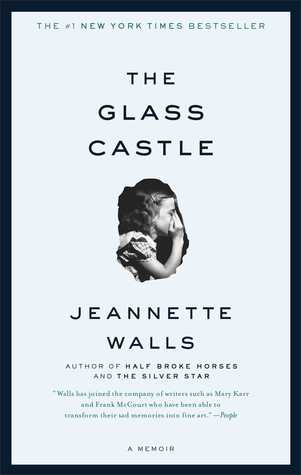 The Glass Castle by Jeannette Walls
Steph's Rating: 5 stars
Overall Rating: 5 stars
Format: Paperback
Publisher: Scribner
Publication Date: January 17th, 2006
Pages: 288
Goodreads Synopsis:
The Glass Castle is a remarkable memoir of resilience and redemption, and a revelatory look into a family at once deeply dysfunctional and uniquely vibrant. When sober, Jeannette's brilliant and charismatic father captured his children's imagination, teaching them physics, geology, and how to embrace life fearlessly. But when he drank, he was dishonest and destructive. Her mother was a free spirit who abhorred the idea of domesticity and didn't want the responsibility of raising a family.

The Walls children learned to take care of themselves. They fed, clothed, and protected one another, and eventually found their way to New York. Their parents followed them, choosing to be homeless even as their children prospered.

The Glass Castle is truly astonishing--a memoir permeated by the intense love of a peculiar but loyal family.
Steph's Review:
I believe this is the first time I've ever reviewed a nonfiction book on this blog. We don't even accept review requests that are nonfiction book, but after reading The Glass Castle, I'm debating changing that to not accepting nonfiction except memoirs.
If this book were fiction, I don't think it would've been as big of a hit as it was. The writing is phenomenal, but if this were only crafted out of sheer imagination, I don't think I would be able to say it was a particularly notable work.
But that's the problem. This book is real--a memoir that recounts events in Jeannette Walls's tumultuous childhood and includes both the bad and the good. I read this and I could not believe that anyone could have such an eventful life in so little time, how children so young in numbers were mature beyond even those who had lived a lifetime. The nomadic lifestyle, the questionable schooling, the financial state--or rather, lack of thereof, the safety issues, the bullying, the hunger, the simple joys, the successes the children have even though they faced this in their entire childhood. It definitely fits the, "Perspective, get some", quote. Every single chapter of her life--and there are many, many short and powerful chapters--is a completely different adventure to tell. It seems that the Walls's family has suffered every kind of hardship, but have also found happiness in ways the average person would never experience.
No matter how well she writes this book, I don't think anyone will truly understand Walls's life except her own family. On the surface, it seems just like a story about a highly dysfunctional family who happens to do everything opposite of what conventional mainstream society says to do. It's a feat to do such a thing, but at the same time, Wall's reveals to us that nothing was as simple as it seemed. Her two parents are both free and nomadic souls and also seem to have no idea what family is yet at the same time, understand what family is more than anyone else. I don't know if it was Walls's intention to paint an ugly picture of her parents (although I hated both her mother and father by the end), but that was what I felt was expressed through her words.
Her father, Rex, is book-smart and cheeky. He has his moments of brilliance and an undying dream of building The Glass Castle for his family to live in. Fine. Rex Walls's is also an alcoholic, has no idea what street-smarts are, and has absolutely no clue how to take care of his family. Her mother, Mary, doesn't want the responsibility to take care of a family despite having four children. She's selfish, whines, and is more childish than any of her kids. The young siblings have to learn how to fend for themselves and stand on their own two feet. They have to figure out to swim before it's too late.
Even with this not-present parenting, this family always stuck together throughout the odds. Even when the family fought. when the children were unhappy, they always ended up back together until the tipping point. This story was stupendous--a look into a life that you would not expect when looking at someone for the first time in the face. Inevitably, this memoir is a life-changer. It sends a message to readers that people might have experiences that we could never imagine: quite frankly, to never judge a book by its cover.